Black Rice Paella Wines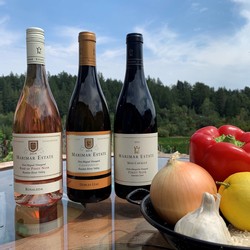 Bring the Coast to your Kitchen with our Black Rice & Seafood Paella!
Learn from Marimar, the Paella expert, about how to make her summer favorite, Black Rice & Seafood Paella from the comfort of your own home. Check out Marimar's recipe for Black Rice & Seafood Paella here. Join us for a special episode of Marimar's Spanish Table on September 9th!
Pair your paella with the Dobles Lías Chardonnay and the Mas Cavalls Pinot Noir and sip on the Rosaleda Rosé while you cook.
New Release
This 100% Pinot Noir Rosé comes from our Doña Margarita Vineyard in the Sonoma Coast. Rosaleda means 'rose garden' in Spanish, and the name evokes the beautiful color and aromas of this rosé. This wine embraces attractive aromas of Alpine strawberries on the nose, with floral notes of rose petals and a minerality reminiscent of wet stones. On the palate it is balanced and round, with refreshing acidity that complements its fragrant fruit.
Club Marimar Exclusive
Dobles Lías means 'double lees' in Spanish and it refers to the extended lees contact used for this small bottling of our Chardonnay. The Dobles Lías boasts a beautiful golden color and enticing aromas of flan and lemon pudding, with notes of citrusy fruit. The palate is rich and creamy, with hints of hazelnut and perfectly integrated oak while the finish is long and lingering, promising a long life.
This Sonoma Coast Pinot Noir is from our Doña Margarita Vineyard, only seven miles from the Pacific Ocean. The Mas Cavalls possesses an elegant nose, with classic varietal aromas of wild cherry, clove and sandalwood plus the charactieristic note of forest floor from this special vineyard. The tannins are supple and graceful, and the palate is round, complex and fleshy.
Product Reviews