Fall Favorites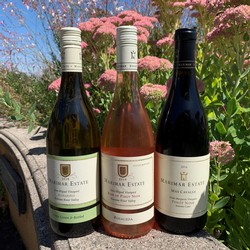 Fall Favorites: Perfect Pairing for Cozy Nights!
This early fall selection is ready cozy nights under the stars and gatherings of good friends and family! Pair with your fall activities and relaxing nights. Unwind with a glass of wine and enjoy fall nights spent baking sweets, tending to the fireplace and binging Netflix!
This aromatic white variety comes from northwest Spain's Rias Baixas. Engaging aromas of apricot, stone fruit and lime, with floral notes of honeysuckle. Fresh, lively and mouth filling, with bright acidity that follows through with an elegant, crisp finish.
This wine has a lovely salmon color and attractive aromas of Alpine strawberries in the nose, with floral notes of rose petals and a minerality reminiscent of wet stones. On the palate it is balanced and round, with refreshing acidity that complements its fragrant fruit.
Elegant aroma, with classic taste of wild cherry, clove and sandalwood plus the charactieristic note of forest floor from this special vineyard. The tannins are supple and graceful, and the palate is round, complex and fleshy.
Product Reviews