Holiday Side Dishes: Biscuits, Bubbles & More!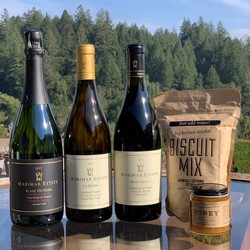 Holidays, Biscuits and Wine OH MY!
December 4th at 5pm PT
Join Marimar and special guest Michael Volpatt from Big Bottom Market for a holiday Facebook Live cooking show. Whip up Marimar's Potato, Onion & Rosemary Cake, Catalan-Style Spinach with Pine Nuts & Raisins and Michael's Biscuits with Honey Butter. Check out the recipes HERE!
Pair your sparkling with the biscuits and your Chardonnay and Pinot Noir with the potato and spinach side dishes.
Wine Club Exclusive
The first vintage of our sparkling: 100% Pinot Noir made in the traditional Champagne method. Intense aromas of strawberry and guava, with very fine bubbles and a refreshing minerality reminiscent of wet stones. The palate shows notes of apple and mango and it is clean and crisp, delicate and focused, with a long, lingering aftertaste.
This classic barrel fermented Chardonnay comes from our Russian River Valley vineyard. The wine shows intense aromas of stone fruit and baked apple, nicely framed with the toasty oak that contributes elegant notes of hazelnut. The palate is crisp, yet creamy and full-bodied, with great balance between the fresh acidity and the richness of the fruit.
This Sonoma Coast Pinot Noir is from our Doña Margarita Vineyard, only seven miles from the Pacific Ocean. The Mas Cavalls possesses an elegant nose, with classic varietal aromas of wild cherry, clove and sandalwood plus the charactieristic note of forest floor from this special vineyard. The tannins are supple and graceful, and the palate is round, complex and fleshy.
Big Bottom Market Biscuit Mix and Orange Blossom Honey
The Big Bottom Market Biscuit Mix and Honey were name one of Oprah's Favorite Things in 2016 and since then Big Bottom Market has been selling the products in their flagship café and store in West Sonoma County's Guerneville. The just add water mix is easy to prepare and when coupled with the unpasteurized local honey it's just like being at the Market.