Summer Whites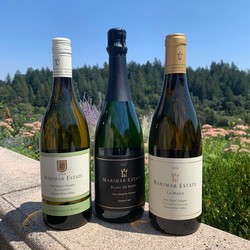 A Taste of our Favorite Summer White Wines!
October 3rd, 3:30pm PT
Join Marimar and Cristina (P'10) for a virtual tasting with the Princeton Club of NY on October 3rd! Enjoy two of our current releases as well as special, limited-time access to our Club Marimar-exclusive sparkling Blanc de Noirs.
This aromatic white variety comes from northwest Spain's Rias Baixas -- and we grow it on our Russian River Valley vineyard! Engaging aromas of apricot, stone fruit and lime, with floral notes of honeysuckle. Fresh, lively and mouth filling, with bright acidity that follows through with an elegant, crisp finish.
The first vintage of our sparkling: 100% Pinot Noir made in the traditional Champagne method. Intense aromas of strawberry and guava, with very fine bubbles and a refreshing minerality reminiscent of wet stones. The palate shows notes of apple and mango and it is clean and crisp, delicate and focused, with a long, lingering aftertaste.
This classic barrel fermented Chardonnay comes from our Russian River Valley vineyard. The wine shows intense aromas of stone fruit and baked apple, nicely framed with the toasty oak that contributes elegant notes of hazelnut. The palate is crisp, yet creamy and full-bodied, with great balance between the fresh acidity and the richness of the fruit.