Our Tasting Room
---
Our tasting room is now open for wine flights and food and wine pairings on the patio!
Enjoy a classic seated tasting or Marimar's delicious Tapas along with a flight of wines and take in the beautiful view from our patio, all while remaining socially distant!
Book online now, email reservations@marimarestate.com or call (707) 823-4365 x114.
We continue to offer curbside pickup for wine orders daily from 10AM - 5PM and wine shipping.
---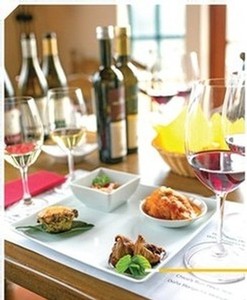 ---
HOW WE ARE PREPARING FOR YOUR VISIT
We are committed to activating and maintaining enhanced best practices, social distancing and additional mitigation protocols to ensure our staff and guests are as protected as possible. These steps include:
• All tastings held on our outdoor patio with minimum of six-foot distance between tables.
• Tastings by appointment only and up to 6 guests per party.
• Hand sanitizer station placed at tasting room entrance for guests to use upon entry into the tasting area.
• Guests must wear masks upon entering the tasting room and whenever not seated at their table. Guests do not need to wear masks while seated once the tasting experience begins.
• Service of wine and food is contactless and winery information is laminated or disposable. Staff maintain a six-foot distance from other staff members and guests.
• Staff undergo training, wear masks at all times and perform a health check before each shift.
• Regularly scheduled sanitization of all tasting room surfaces including doorknobs, light switches and bathroom fixtures at multiple and frequent intervals. And sanitization between subsequent seatings.