Marimar's Chilean Empanada Party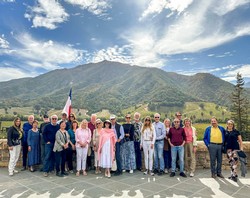 As fellow adventurers who have embarked on journeys to Spain and Chile with Marimar in the past, we are thrilled to gather together for a Chilean Empanada Party at Marimar's home overlooking the Don Miguel Vineyard! We will reminiscent on the fun we have had and start to plan our next adventure together!
Join us for empanadas and a Spanish lunch paired with our wines on Saturday, July 29th at 12pm.
Product Reviews
Karen & Dan Dyckman
(May 24, 2023 at 5:29 PM)
Looking forward. We will be entering the empanada contest too.
Bill Baker
(Jun 21, 2023 at 6:40 AM)
We love your Estate Tempraillo. It goes great with Spanish foods, especially empanadas!