Pinot Blending Event Ticket - Guest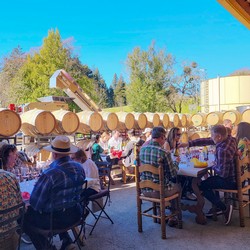 Date: Sat, Feb 3, 2024
Time 11:00 AM
Realize your winemaking dream when you join us for one of our most popular and exclusive events: our Pinot Blending Workshop! Marimar, Taylor (our new Cellar Master) and Tony (our 27-year-veteran, recently retired Cellar Master) will guide you as you trial, taste, and craft your own blend from barrel samples of our Pinot Noir clones.
After you develop your own master blend from our Pinot Noir clones, you'll be treated to an array of tapas and a lavish Spanish lunch prepared by Marimar at her home overlooking the Don Miguel Vineyard. And take home a bottle of your proprietary blend, complete with your own custom label!
Tickets are $195 for guests.
Product Reviews