Marimar Estate & Amista: Women in Wine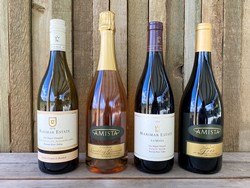 Raise a Glass with Us!
Thursday, April 15th at 4pm PT
Join Marimar and Vicky this Women's History Month for a celebration of women who have forged their own way in the world of wine!
Sip on Vicky's Sparkling Grenache and Rhône blend along with Marimar's Chardonnay/ Albariño and La Masía Pinot Noir. Hear the stories they have to tell of their unique journeys and how they each came to choose different corners of Sonoma County.
Wine Club Exclusive
This club favorite is a unique blend of the classic white grapes from Spain and California. The 40% Albariño contributes floral notes of jasmine and hybiscus, as well as a classic note of minerality, which combine beautifully with the aromas of tangerine from the Chardonnay. The palate displays bright fruit, with great mouthfeel and seamless finish.
Pinot Noir from our Don Miguel Vineyard in the Russian River Valley — the first Pinot that we started producing back in 1992. Luscious, vibrant nose of black cherry and ripe red fruits, with background notes of orange peel and clove. The firm, rich tannins provide structure on the palate.
Wine Club Exclusive
Sparkling made in the Traditional Method with Grenache sourced from their estate Morningsong Vineyard in Dry Creek Valley. Lush with ripe raspberry, notes of lemon meringue pie filling, a hint of passion fruit and sliced brioche sizzled in butter are sure to delight.
A blend of Grenache, Syrah and Mourvèdre, all grown in the Morningsong Vineyard in Dry Creek Valley This wine is filled with juicy red cherry and plum, raspberry cordial, and all-spice. The palate is round and full, and the finish is light and bright, leaving you yearning for another sip.
*Wine bundle and Zoom link will be sent after purchase.