Marimar's Paella Wines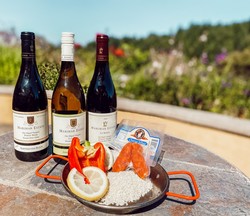 Paella & Pinot: A Match Made in Heaven!
July 17 at 4PM PT
Learn directly from Marimar how to make her Summer Paella on a special episode of Marimar's Spanish Table on Friday, July 17th.
Pair your two Pinot Noirs with the paella, and sip on your Albariño while cooking.
This aromatic white variety comes from northwest Spain's Rias Baixas. Engaging aromas of apricot, stone fruit and lime, with floral notes of honeysuckle. Fresh, lively and mouth filling, with bright acidity that follows through with an elegant, crisp finish.
New Release
Pinot Noir from our Don Miguel Vineyard in the Russian River Valley — the first Pinot that we started producing back in 1992. Luscious, vibrant nose of black cherry and ripe red fruits, with background notes of orange peel and clove. The firm, rich tannins provide structure on the palate.
Wine Club Exclusive
The Pommard clone of Pinot Noir is planted on this small block at our Russian River Valley vineyard. The wine displays aromas and flavors of plums, black cherries and red fruits; cinnamon, clove and peat. The firm tannins, roundness and balance promise a very long life.
*Wine, Paella Recipe and Zoom link will be sent after purchase. Click HERE for recipe page.