The Princeton Holiday Tasting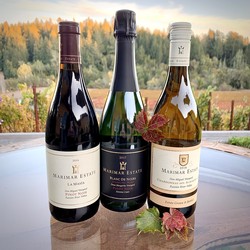 A Princeton Toast to the Holidays!
December 9 at 5pm PT
Join Marimar and Cristina Torres (P'10) for a virtual tasting with the great Princeton Classes of 2009, 2010 and 2011! The mother-daughter team trace their winemaking roots back to Spain and this is the first time in five generations that the baton will be passed from mother to daughter. They will share stories of their family history and experiences in the world of wine and talk food and wine pairing, featuring recipes from Marimar's cookbooks.
Enjoy a taste of Spain in Sonoma County with access to our club-exclusive sparkling Blanc de Noirs and Chardonnay/ Albariño blend along with our quintessential Russian River Valley Pinot Noir.
Wine Club Exclusive
The first vintage of our sparkling: 100% Pinot Noir from our Sonoma Coast vineyard made in the traditional Champagne method. Intense aromas of strawberry and guava, with very fine bubbles and a refreshing minerality reminiscent of wet stones. The palate shows notes of apple and mango and it is clean and crisp, delicate and focused, with a long, lingering aftertaste.
Wine Club Exclusive
This club favorite is a unique blend of the classic white grapes from Spain and California. The 40% Albariño contributes floral notes of jasmine and hybiscus, as well as a classic note of minerality, which combine beautifully with the aromas of tangerine from the Chardonnay. The palate displays bright fruit, with great mouthfeel and seamless finish.
Pinot Noir from our Don Miguel Vineyard in the Russian River Valley — the first Pinot that we started producing back in 1992. Luscious, vibrant nose of black cherry and ripe red fruits, with background notes of orange peel and clove. The firm, rich tannins provide structure on the palate.
*Wine bundle and Zoom link will be sent after purchase.