The Connoisseur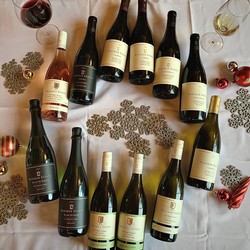 For the Ulimate Wine Drinker
This holiday gift set is for the ultimate wine lover! Enjoy a selection spanning the red, the white, the pink and the bubbles. A bit of everything!
Individual bottle bags and festive holiday packaging are included. Let us know if you would like to include a personalized, handwritten note or want to customize further.
This selection includes:
Complimentary Classic Tasting for two people
A hosted seated tasting of white and red wines in our dining room or on our patio.
2019 Blanc de Noirs (x2)
Doña Margarita Vineyard, Sonoma Coast: traditional method sparkling Pinot Noir
2021 Albariño (x2)
Don Miguel Vineyard, Russian River Valley: aromatic white variety originally from Galicia
2021 Acero Chardonnay
Don Miguel Vineyard, Russian River Valley: stainless steel-fermented, unoaked Chardonnay
2020 La Masía Chardonnay
Don Miguel Vineyard, Russian River Valley: barrel-fermented Chardonnay
2018 La Masía Pinot Noir (x2)
Don Miguel Vineyard, Russian River Valley: our classic Russian River Pinot Noir
2018 Mas Cavalls Pinot Noir (x2)
Doña Margarita Vineyard, Sonoma Coast: coastal Pinot Noir at its finest
2018 Cristina Pinot Noir
Don Miguel Vineyard, Russian River Valley: our top bottling, a barrel selection of the wine that has the most potential for aging
2021 Rosaleda Rosé of Pinot Noir
Don Miguel Vineyard, Russian River Valley: crisp Rosé made by spending just 24 hours on the skins
Product Reviews