The Spanish Collection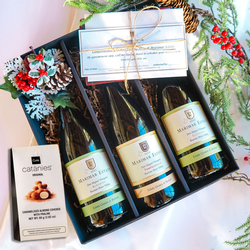 For the Travel Enthusiast
This giftset is for the one who loves to travel! Surprise the jet-setter in your live with a taste of Spain this holiday season. This bundle includes three Spanish varitals made here in the Russian River Valley: Albariño, Godello, and Tempranillo, and a box of traditional chocolates from Spain.
FREE shipping, holiday gift box, and a personalized handwritten note are included. Let us know if you would like to customize futher:
This selection includes:
Complimentary Classic Tasting for two people
A hosted seated tasting of white and red wines in our dining room or on our patio
Catànies by Cudié
These traditional Catalan sweets are toasted and caramelized Marcona almonds dipped in praline coated with chocolate powder
2022 Albariño
Don Miguel Vineyard, Russian River Valley: an aromatic unoaked white variety from Northwest Spain
2022 Godello
Don Miguel Vineyard, Russian River Valley: a unique Spanish white variety half fermented in stainless steel tank and half in concrete egg
2019 Tempranillo
Don Miguel Vineyard, Russian River Valley: one of the finest red varieties indigenous to Spain
*This bundle is available for purchase, however it will be shipped starting on November 7th.
Product Reviews