La Masía Pinot Noir: A Vertical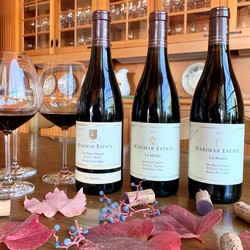 One Wine Over Three Vintages
Don't miss out on this incredible Pinot Noir vertical tasting bundle. Taste through the 2017, 2015, and 2011 vintages of our La Masia Pinot Noir. La Masía means The Farmhouse in Catalonia, Marimar's home region; and our philosophy has always been to produce a wine as an extension of farming the vineyard. Taste for yourself how one wine can transform over the years. But our inventory is low on these library vintages so get your wines soon!
Luscious, vibrant nose of black cherry and ripe red fruits like Santa Rosa plums, with background notes of orange peel and clove. The firm, rich tannins promise a long life; this wine will continue to develop for another 10-15 years.
Wine Club Exclusive
Deep, beautiful dark color and intense classic Russian River/Green Valley nose of black cherries and blueberries, even a hint of rose petals. The palate is elegant, with concentration and balance. The firm tannins are starting to soften and promise a long life.
Wine Club Exclusive
Beautiful garnet color and engaging aromas of raspberry and wild berries. A note of spice reminiscent of cloves and some orange peel complement the vibrant, lively nose. Tertiary aromas of mushroom and forest floor are beginning to develop. The tannins are supple and smooth, making this a very appealing wine to drink.
Product Reviews